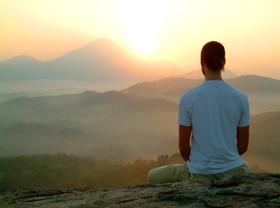 Meditation is essential to get peace of mind and relaxaced body. There are easy steps to meditation to help  us for proper practice. It makes us free from all kinds of our mental and physical problems. Many diseases like blood pressure and heart problems can be cured by practicing it regularly. Certain restrictions are imposed by us on ourselves in order to get relief. Focus has to be maintained on one particular thing or candle light in order to keep away wandering thoughts. Don't let these thoughts disturb us but we must refocus on our breathing. We should start it with patience and practice it regularly.
Meditation will give us relief which we cannot have even by taking any kinds of medicines. There are many methods to be adopted of meditation but the results of all these are the same. There are certain steps which are to be followed while doing meditation.
Quiet place: We should try to find a space where there is least disturbance. The room should be quiet and comfortable to get start. We can practice it even in our car but the results will not be as satisfying as we want. It is this situation which will provide relief of our choice. We can relax our mind and body after practicing it properly and patiently.
Be comfortable: We should try to be in a comfortable while doing meditation. It is better to avoid lying down on bed because this forces us to get sleep. Meditation can be done at the time of going to sleep or after awakening early in the morning. It is always good to practice it in the day time. We can practice it while sitting on a chair or a cushion but try to keep our body erect and straight spine in a relaxaced posture.
Listen some divine music: There is silence all-around but some music of our liking or religious hymns may be put on in a low volume to keep our mind relaxed. This helps us to let our positive thoughts penetrate into our consciousness. We find ourselves very comfortable near to Almighty.
Focus and refocus on deep breathing: We can make it simple by feeling the sensation of inhalation and exhalation. It will fill our lungs with air and our abdomen is expanded. The wandering thoughts are kept under control by refocusing on it. Some doubts will be created but let them go away. Keep our concentration on some thing without getting disturbed from outside problems.
Meditate as long as we want: We can meditate as long as we keep our focus but don't remove the focus from the breathing. It becomes easier later on to remain in this meditative mode.
Allow light radiate from Heaven: We should allow the light and clearness from heaven to radiate to fill our body with ecstasy and complete relaxation. Try to feel the two energies mixing. We should try to move our attention to the crown of the head and try to imagine a centre point of energy there.